OSR Herbicides?: Think Water!
A VI Stewardship Scheme to build on existing best practice to protect water and avoid restrictions on these products.
What's the issue?
Five key herbicides used to grow oilseed rape and control blackgrass and other weeds in arable rotations are being detected with increasing frequency in surface water. As a consequence, the UK Government is considering introducing restrictions on the use of these herbicides. Indeed, in May of 2021, it was announced that carbetamide-based herbicides will not be available for use beyond November 2022.
Which OSR herbicides are affected
The OSR herbicides being detected are metazachlor, propyzamide, carbetamide, quinmerac and clopyralid. Propyzamide is the most frequently detected, while quinmerac and clopyralid are more difficult for water companies to remove.
How does this affect me?
These OSR herbicides are critical to weed control and growing a successful crop of oilseed rape, some of them are also important in controlling blackgrass across the rotation. Restrictions on the use of these herbicides threatens the economic viability of oilseed rape which is a valuable break crop.
So what is being done?
The Voluntary Initiative is working with water companies and the farming and crop protection industry to raise awareness of the issue, improve practices and develop new tools that will support farmers in continuing their responsible use of these herbicides.
What can I do to help?
There are 3 steps you can take to help

Use The Environment Agency's Farmers page (bit.ly/EA_Farmers) to find out if any of your land is in a Drinking Water Safeguard Zone (DWSgZ).

If you are farming in a DWSgZ, speak to your local water company catchment officer to understand the potential risk on a field-by-field basis, or speak to your agronomist.

Implement best practice agronomy to help protect water by following the three basic steps below: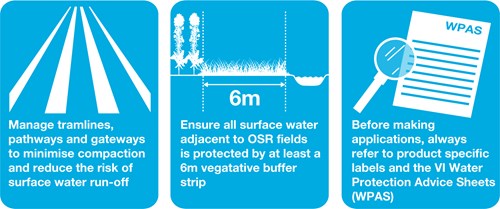 2021/2022 campaign
Link here to specific messages for the new campaign
OSR Herbicides further resources